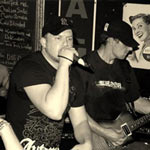 Manu Armata is pretty new but promising band from the Netherlands with a strong knack for tough, heavy NYHC sound. Their debut EP called No Victory Without Strife is being released by 5Feet Under Records, but you can also download it for free
here
!
Name:

Manu Armatajavascript:void(0)



Location:

Harlingen, the Netherlands



Active since:

Manu Armata started in april 2007, the members have bin active since 1994 in different hardcore bands.



How do you define your overall style?



Brutal Harlingen hardcore with a metallic edge



What's your goal with this band?



Playing as much shows as we can. And spreading our hardcore believes.



What do you have recorded so far?



We just finished our debute EP 'No Victory Without Strife'. Before this we recorded a promo in 2007 of which we spread 800 copies for free @ our shows.



When, how and why the band came to being?



Three of our members used to play in a band called All Odds Against Me. When we split up in 2006, we started to miss the hardcore music and we decided to start Manu Armata.



What does the name Manu Armata stand for and how does it relate to your music?



Manu Armata means in Latin: 'Armed hand'. We see our music as a weapon, a weapon we can use in the battle of everyday live.



Could you tell us about your new EP called No Victory Without Strife. What should we be expecting from it?



No Victory without Strife is an EP with six furious hardcore songs. It contains lyrics everyone can relate to. From personal struggles to social criticism.



Instead of making mad money by selling this stuff on cds or vinyl, you decided to share No Victory Without Strife for free so the kids can download it directly from your website. What was the reason for this move?



We think it's more important that people can hear our music and know what we're about. Rather than making money of our record sales.






Are there any plans to release it in CD or vinyl format for the hardcore collectors?



At the moment our EP is released on CD by 5Feet Under Records, http://www.5feetunder.com/. Furthermore we are planning on releasing the record on vinyl.



Your lyrics are pretty much straight forward and pissed off. Where do you take inspiration from? Your environment? People around you?



We take inspiration from everyday life. And everything what happens in this world.



What is the hardcore scene in Netherlands like? What are some good bands over there?



It's been quite for a couple of years but now it's rising up again. Some good bands are: 'Striking Justice', '21 Gun Salute', 'Cornered', 'Swim or drown', 'Cold blooded', 'Born faced down'.



Divisions in hardcore – do you see much of it in the scene in your country?



No, everything is one big happy hardcore family.



What bands would you love to share a stage with?



We already played with 'Madball', 'Sick of it all' so there's not much more we could wish for. But we would love to play with 'Terror' or 'Hatebreed'.






Do you remember the first hardcore album you ever brought? What was it?



Madball – Demonstrating my style



What are the future plans for the band?



In februari we're going to do a tour trough Denmark and Sweden. We're also planning to play in Germany and Holland of course. Next to that we just shot our first video which will be out soon. Check our http://www.myspace.com/manuarmata/



Any closing comments?



Thanks for the interview, don't forget to download our new EP at http://www.manuarmata.com/. Hope to see you at one of our shows. Take care and keep it real.